Overview of Bilateral Relations | Economic & Commercial Relations | Culture | Defence | Education
Economic Commercial Relations
India and Malaysia have had long-standing commercial links dating to the pre-Christian era. In modern times, Indian industry has been associated for three decades with the transformation of Malaysia from an exporter of primary products into an industrialized and broad-based economy. The first Indian joint venture, Godrej commenced operations in 1968, and in the seventies and early eighties Malaysia hosted the largest number of Indian joint ventures in any country. Indian companies present involvement in Malaysia is in palm oil refining, power, railways, information technology, bio-technology, manufacturing industrial goods, higher education, civil construction, and training.

In the decade since 2000 growing India-Malaysia ties across the board have triggered new dimensions in bilateral commercial and economic relations.  


Legal & Institutional Framework
India and Malaysia signed a landmark Free Trade Agreement in Kuala Lumpur in February 2011 called the Comprehensive Economic Cooperation Agreement (CECA). The CECA is a single undertaking covering goods, services, investment and other areas of cooperation. The new framework provides significant new opportunities for economic collaboration and is expected to lead to stronger commercial and economic ties at the governmental as well as business-to-business levels. The CECA has entered into force from 1 July 2011. Click Here to view CECA agreement.

In Trade in Goods, key items on which Malaysia has offered market access to India are basmati rice, mangoes, eggs, trucks, motorcycles and cotton garments which are all items of considerable export interest to India. Key items of Malaysia's interest on which we have offered market access are fruits, cocoa, palm oil products and synthetic textiles. For refined palm oil (RPO) exports by Malaysia into India, as compared to the concessions under the India-ASEAN Trade in Goods (TiG) Agreement, only advancement of timeline from 2019 to 2018 is offered by India, retaining the end-tariff rate of 45%.

In Trade in Services both sides have exchanged WTO 'plus' offers and Malaysia's offer to India is significantly superior to Malaysia's revised offers in the WTO both in terms of sectoral coverage as well as depth within each sector/sub-sector.  Malaysia has offered commitments in the categories of Contractual Service Suppliers (CSS) and Independent Professionals (IP) in commercially meaningful sectors including accounting and auditing, architecture, urban planning, engineering services, medical and dental, nursing and pharmacy, Computer and Related Services (CRS), Management Consulting Services, etc.  Malaysia has also removed all requirements relating to economic needs tests/labour market tests for our professionals entering Malaysia.  Malaysia has offered substantive commitments in the area of cross borders supply of services, almost without any restrictions, across the board, which is of immense importance for our Information Technology (IT) and Information Technology Enabled Services (ITES) industry.  Malaysia has also offered comparatively higher levels of FDI in sectors of interest to India like computer and related services, management consulting services, construction services etc.

CECA aims to promote investment and create a liberal, facilitative, transparent and competitive investment regime. The Chapter on Investment serves to strengthen cooperation in investment, improve transparency of investment rules and regulations and provide for protection of investments. It incorporates provisions designed to offer relative standards of treatment i.e. National Treatment, protection against Expropriation or Nationalization, provisions for Minimum Standard of Treatment, provisions for transfer of profit and investments, Subrogation, Reservations, and recourses to dispute settlement (investor-to-state). IMCECA purports to protect, promote and remove barriers to foreign investment flows in order to stimulate new investment flows between India and Malaysia.

The legal framework governing bilateral trade and economic cooperation also includes, inter alia, a bilateral Investment Protection Agreement signed in 1997; a Revised Double Taxation Avoidance Agreement signed in May 2012; and a MoU on Cooperation in Customs Matters in June 2013. The two Governments are working to revise the Air Services Agreement between India and Malaysia signed in May 1974 which is expected to review the respective traffic entitlements. The India International Bank Malaysia (IIBM), a joint venture of Bank of Baroda, and Andhra bank, was launched on July 11, 2012.

Institutional arrangements between India and Malaysia for trade and economic cooperation include an India-Malaysia Joint Commission, chaired by the respective Foreign Ministers, which was established in 1992. The Joint Commission has held only five meetings (1992, 2000, 2002, 2007 and May 2011).
India-Malaysia CEO Forum

During Prime Minister Dr. Manmohan Singh's visit to Malaysia from 26 to 28 October 2010, both countries established a India-Malaysia CEOs Forum comprising 18 CEOs from both sides, which was jointly launched on 27 October 2010 by the Prime Ministers of India and Malaysia to develop enhanced partnership and cooperation at the business level. The Forum held its second meeting in Mumbai on 20 May 2011. The third meeting of the Forum was held in Kuala Lumpur on 22 November 2011.The fourth meeting of the Forum was held in Johor Bahru on 08 June 2012. The fifth meeting was held in New Delhi on December 19, 2012.

Private sector agreements signed during the Prime Minister's visit are as follows:
| | |
| --- | --- |
| | Biocon announced investment worth RM 500 million (US $ 161 million) to set up its first overseas manufacturing and research facility in Malaysia in partnership with Biotech Corporation of Malaysia. The USFDA-compliant plant would be operational by 2014 and make high-end biosimilars and biopharmaceuticals for the global market. It is one of the biggest biotechnology investments in Malaysia. |
| | Manipal Group of India announced an investment of US $ 180 million in Malaysia to set up a multi-disciplinary university. The Minister for Higher Education Dato' Seri Khalid Nordin handed over the license to the Manipal Group during the Prime Minister's visit. |
| | Quantum Sigma Sdn Bhd and ES Electronics (India) Pvt Ltd has signed an agreement to establish a manufacturing facility to produce solar panel and energy saving plugs by Quantum Sigma in Bentong, Pahang. The investments by Indian company are on technology transfer and expertise. The proposed project entails an investment of over. RM18 million |
| | Realty major Embassy Property Developments has entered into a joint venture with MK Land Holding, a Malaysian company that specialises in pre-fabricated affordable housing, to build projects in the affordable housing segment. The proposed project entails an investment of over RM2 Billion. |
| | Malaysia Airline System (MAS) and Tata Consultancy Services Sdn Bhd (TCS) have signed an agreement to establish a general framework for cooperation in the fields of technology and Business Advisory Services. |
| | Scomi Marine Berhad & Intan Asia Sdn Bhd have signed an agreement with Indian Maritime University to set up a Maritime University Campus in Malaysia. |
| | Budayatama Corporation Sdn. Bhd has entered into agreement with PEN Food Pvt Limited to advise and offer technical knowhow in the business of producing high quality blends of bio-compost fertilizers to Budayatama Corporation Sdn. Bhd. It also undertakes to do transfer of technology to Budayatama Corporation Sdn. Bhd. plant to be set up in Malaysia. The cost of the project is valued at RM30 million (US$ 10 million). |
| | TH-NSTC Sdn. Bhd. and Davanam Constructions Pvt. Ltd has entered into an agreement to develop ultra low density, world class luxury residential development with Club House managed by General Hotels Management in Barndar Enstek on approximately 200 acres area and the cost of project is RM 1.5 billion. |
| | Universiti Tenaga Nasional Sdn. Bhd and TERI (The Energy and Resources Institute) has signed an agreement for cooperation in Areas of Education, Research, Capacity Development, and Consultancy. |
| | IEM Training Center Sdn. Bhd (IEMTC) and Engineering Staff College of India have signed an agreement to collaborate in the field of continuing professional development of engineers of the respective countries.  |

Bilateral Trade
Bilateral trade between India and Malaysia increased by 7.3% to RM 41.15 billion (USD 13.32 billion) in 2012 as compared with RM38.35 billion (USD 12.53 billion) in 2011. Malaysia's exports to India were worth RM 29.33 billion (USD 9.50 billion) and imports from India were valued at RM 11.82 billion (USD 3.82 billion) in 2012. Malaysia's import from India is an increase of 15.9% corresponding to the same period of last year. India is the 8th largest trade partner globally. The trade is significantly imbalanced in Malaysia's favour. The trade deficit had marginally improved a little (5.7 billion in 2012 as compared to 5.9 billion in 2011). The bilateral trade for the period of Jan-Oct 2013 have shown an increase of 2.4% to RM 35,896 million (USD 11,288 million) corresponding to same period of last year. Malaysia's exports to India were worth RM 21,447 million (USD 6,744 million) and imports from India were valued at RM 14,449 million (USD 4,544 million).  Malaysia's imports from India show a significant increase of 38.59% and exports to India have reduced by 12.92% as compared to figures during corresponding period of last year.
As per Indian statistics, the corresponding figures of bilateral trade in Jan-Dec 2012 were US $ 13.89 billion. India's exports to Malaysia were worth US $ 3.78 billion and India's imports from Malaysia were worth US $ 10.10 billion. The bilateral trade in Jan-Sept 2013 was US$ 10,980.24 million. India's exports to Malaysia were US$ 3,945.36 and imports from Malaysia were US$ 7034.88 (Source: Directorate General of Commercial Intelligence and Statistics, Ministry of Commerce & Industry, India). The bilateral trade stood at US $ 11.288 billion for the period Jan.- Oct. 2013 registering an increase of 2.4% over the corresponding figure for Jan.- Oct. 2012, viz. US $ 11.023 billion.
Since the launch of the Look East Policy by India in early 1990s, bilateral trade increased by 16 times from US $ 0.6 billion in 1992 to US $ 13.32 billion in 2012. Bilateral trade data since 1998 up to Sept. 2013 is shown below.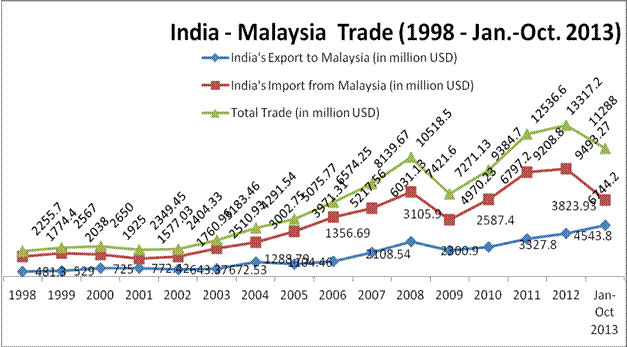 Year

India's Exports 
(US$ mn)

Growth rate (%)

India's Imports
(US$ mn)

Growth rate (%)

Balance of Trade
(US$ mn)

Total Trade (US$ mn)

Growth rate (%)

1998

481.3

 

1774.4

 

-1293.1

2255.7

 

1999

529.0

9.91

2038.0

14.86

-1509.0

2567.0

13.80

2000

725.0

37.05

1925.0

-5.54

-1200.0

2650.0

3.23

2001

772.42

6.54

1577.03

-18.08

-804.61

2349.45

-11.34

2002

643.37

-16.71

1760.96

11.66

-1117.59

2404.33

2.34

2003

672.53

4.53

2510.93

42.59

-1838.4

3183.46

32.41

2004

1288.79

91.63

3002.75

19.59

-1713.96

4291.54

34.81

2005

1104.46

-14.30

3971.31

32.26

-2866.85

5075.77

18.27

2006

1356.69

22.84

5217.56

31.38

-3860.87

6574.25

29.52

2007

2108.54

55.42

6031.13

15.59

-3922.59

8139.67

23.81

2008

3105.95

47.30

7412.61

22.91

-4306.66

10518.56

29.23

2009

2245.67

-27.70

4826.19

-34.89

-2580.52

7071.86

-32.77

2010

2477.60

10.06

6501.10

34.16

-4023.50

8978.70

26.51

2011

3327.80

34.6

9208.80

34.60

-5881.0

12536.60

32.7

2012

3825.24

4.2

9491.91

3.09

5669.90

13317.15

7.3

Jan-Oct. 2013

  4543.8

38.59

   6744.2

(-)12.92

   2200.4

11288.00

2.40

(Source: Department of Statistics, Malaysia)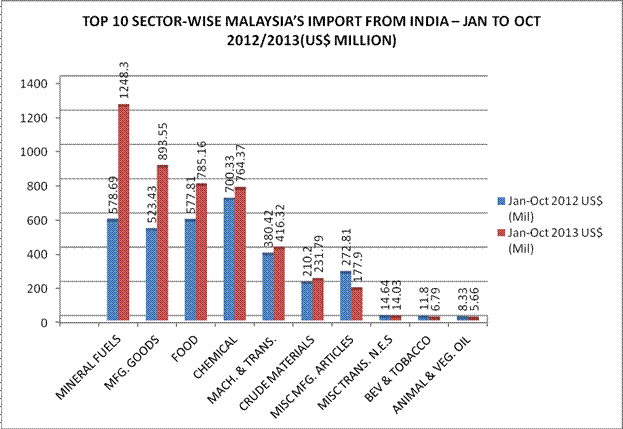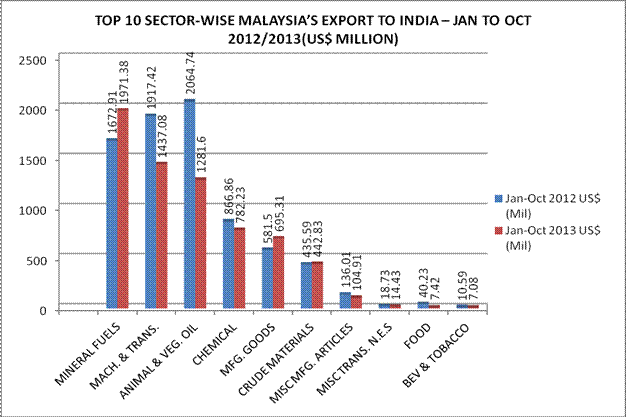 INVESTMENT SCENARIO 
(I) Malaysian Investment in India
(a) Investment
Malaysia is currently 19th largest investor in India with FDI inflows from April 2000 to September 2013 standing at US $ 618.37 million, as per the statistics of the DIPP. If investments made through the third country route are also included, cumulative Malaysian investments in India till date stand in excess of US$ 6 billion. Malaysia is emerging as a major potential investor in India, with investments in the pipeline in power, oil refineries, telecommunication and electrical equipment industries, besides highway and other infrastructure development projects. 
Malaysian Foreign Direct Investment in India is primarily focused on roads and highways, telecommunications, oil & gas, power plants, tourism and human resources.  The highest investment proposals have been in the telecommunications, followed by Fuels (power and oil refinery) sector and Roads and Highways. 
In the period 2007 – 2012, there has been a surge in Malaysian private sector initiatives in the flow of project-related investments into India. Notable among these are the investments, include:
Malaysia's national oil & gas company PETRONAS' stake in Cairn India (Indian arm of UK based oil & gas major Cairn Energy Plc) went up to 14.94% after its recent acquisition of 2.3% share for US $ 240 million (April, 2011)
Astro All Asia Networks Plc has increased its stake in India-based South Asia FM Ltd. (SAFL) from 6.98% to 20% for RM 60.55 million, with an eye on radio-advertising growth in future. (June 2009)
Ranhill Bhd's USD 900 million contract for construction and commission of a 2x350 MW thermal power plant in Chhattisgarh; (2007)
Mudajaya Group Berhad's USD 150 million E&P power project related contract in Chhattisgarh; (2006)
Asian Gateways Construction Sdn Bhd's USD 1.4 billion mega thermal power project (1600 MW) in Andhra Pradesh, Power Purchase Agreement (PPA) for which was signed with PTC India Ltd. in July 2007;
9.95% stake acquired by Khazanah Nasional Berhad, the investment arm of the Malaysian Government, in Infrastructure Development Finance Company (IDFC) valued at approximately Rs. 8.2 billion (USD 180 million) over a six-month period between September 2006 and March 2007 making them the second largest share holder in IDFC after the Government of India, which holds a 23% stake; (2007)
Sunway Group, Malaysia and Hyderabad based Opus Developers & Builders are developing a 35-acre township, SunCity in Andhra Pradesh, with around 3,400 units of high quality condominiums & their another JV with MAK Projects Private Ltd to develop an RM 380 million (USD 113.43) condominium project in Hyderabad; (2008)
UMW Holdings Bhd's acquiring 14.9% stake in BSE-listed Oil Country Tubular Ltd (OCTL) for RM 41.96 million (USD 12.16 million) through its Indian arm UMW India Ltd.; (2007)
IJM Corp. Bhd and IDFC's joint venture to develop a southern road project - Chilakaluripet-Vijayawada Section of National Highway 5 in Andhra Pradesh, at a cost of Rs. 6.75 billion; (2008)
India's largest mobile phone service provider Bharti Airtel Ltd. and Malaysia's Global Transit Limited are part of a six member consortium to build a high bandwidth undersea fibre-optic cable linking Asia and the USA at a total estimated cost of US$ 300 million.
UMW Corporation Sdn Bhd, a subsidiary of UMW Holdings Bhd has entered into two separate share sale agreements in 2008 for acquiring a 51% stake in MK Autocomponents Ltd for USD 22.52 million and 50% in MK Automotive Industries Ltd for USD 1 million approximately. (2008)
Malaysian construction firm, UEM Builders Bhd, have set up an equally owned joint venture company in partnership with India's Ansal Group, called UEM Builders-Ansal API Contracts Pvt. Ltd., with the objective of working jointly on several upcoming construction projects in India, particularly those related to real estates and township development. (2007)
IJM Steel Products Private Ltd, an Indian subsidiary of IJM Group has commissioned an RM 16 million (US $ 4.9 million) welded wire mesh(WWM) manufacturing facility at Isnapur, near Hyderabad. (2008)
Sime Darby Plantation Sdn Bhd, a wholly owned subsidiary (WOS) of the Sime Darby Berhad, signed a Memorandum of Understanding (MoU) with the State Trading Corporation (STC) of India on 26 August 2008 to cooperate in the field of edible oils. Under the agreement, both sides are currently exploring the possibility of setting up an edible oil refining facility and market the end products in India through the joint venture route. (2008)
Tune Hotels Regional Services Sdn Bhd, a Malaysian company with Tune Venture and Tony Fernandes holding 30% and 14% stake, entered into a strategic partnership with Apodis Hospitality Corporation of India to invest in, develop and operate 20 Tune Hotels across India by 2012. It has plans to develop 70 hotels in India by 2016. (2009)
(b) Malaysian Projects in India
According to the Construction Industry Development Board (CIDB) of Malaysia, Malaysian companies have so far completed 72 construction projects worth US$ 3.27 billion in India, while 17 projects valued at US$ 2.376 billion are currently under various stages of implementation.
Some of the notable ongoing projects in construction as well as other industry sectors include:
Scomi Engineering Bhd is part of a consortium led by India's Larsen & Toubro Ltd that has been awarded the RM 2 billion monorail project in Mumbai.
Marrybrown proposes to add 12 more outlets to the existing 30 restaurants in southern part of India.
Ranhill Utilities Bhd (RUB) is partnering with India's Jusco Group and Infrastructure Development Finance Co (IDFC) to lease and build water treatment plants in West Bengal.
IJM Corp. Bhd, through its special purpose vehicle Vijayawada Tollway Pvt Ltd, has embarked on a major highway project worth nearly RM 500 million (USD 156.7 million) in Andhra Pradesh.
Malaysian Aiports Holdings Bhd has a 10% stake in Rajiv Gandhi International Airport at Hyderabad.
II) Indian Investment in Malaysia
As per Malaysian Investment Development Authority (MIDA), cumulative Indian investment into Malaysia from 1980 – Aug. 2013 stands USD 2051.29 million (2.05 billion) which include investments of USD 2.91 million during 2013. As per Malaysian Investment Development Authority (MIDA), during 2012, a total of 10 projects have been approved & implemented with Indian participation in production of Food Manufacturing, Textiles & Textile Products, Wood & Wood Products, Furniture & Fixtures, Chemical & Chemical Products, Petroleum Products (Inc. Petrochemicals), Fabricated Metal Products and Scientific & Measuring Equipment amounting to US$259.85 million as compared to a total 5 projects amounting to US$78.09 million in 2011. At present, there are more than 77 Indian companies including 70 Indian joint ventures operating in Malaysia. Indian companies have started making sizeable investments in Malaysia. Recron Malaysia Sdn Bhd (owned by the Reliance group) is the largest Indian company in Malaysia, which is one of the largest synthetic and textile integrated plants in the world. Ballarpur Industries Limited of the Avantha Group-owned Sabah Forest Industries, and Larsen & Toubro Group's Tamco Switchgear are other major Indian companies in Malaysia. Mahindra Satyam has moved to new premises, located at a 15-acre site in Cyberjaya, offered by the Malaysian Government for its Global Solution Centre (GSC) operations. India's Reliance Capital Ltd. set up a Malaysian unit to serve as a global hub for syariah-compliant financial products. Veeda Clinical Research Organization, Ahmedabad proposed to set up its advanced research unit at Ampang Hospital in Kuala Lumpur. The company entered into a quasi-commercial agreement with Malaysia's Health Ministry. Indian public sector undertakings particularly IRCON, HMT, EIL, BHEL, and IOC have been engaged with the Malaysian industrial sector since the 1970s.
Some of the recent investments/JVs as well as Malaysian projects awarded to Indian companies include:
Biocon announced investment worth RM 500 million (US $ 161 million) to set up its first overseas manufacturing and research facility in Malaysia in partnership with Biotech Corporation of Malaysia. The USFDA-compliant plant would be operational by 2014 and make high-end biosimilars and biopharmaceuticals for the global market. It is one of the biggest biotechnology investments in Malaysia.
Manipal Group of India will be investing US $ 180 million in Malaysia to set up a multi-disciplinary university. The Minister for Higher Education Dato' Seri Khalid Nordin handed over the license to the Manipal Group during the visit of Prime Minister Dr. Manmohan Singh to Malaysia on 27 October 2010.
Manipal International University (MIU) is a Malaysian university currently offering MQA-approved programmes in engineering, life sciences & business as part of Manipal Group. Manipal International University (MIU) is open for enrolment in September 2012. Manipal Education's has invested RM650mil over five years to establish the Manipal International University (MIU). MUI, Nilai Campus would move to a world class education mini city in 2013.
Veeda Clinical Research Organisation, Ahmedabad proposes to set up its advanced research unit at Ampang Hospital in Kuala Lumpur. The company has entered into a quasi-commercial agreement with Malaysia's Health Ministry.
Hextar Chemicals Sdn Bhd, Kuala Lumpur and Unitop Chemicals Pvt. Ltd, Mumbai entered into a joint venture in January 2008 to make specialty chemicals for the agriculture, oil and gas, textile and personal care products industries. The Plant, known as Hextar Unitop Chemicals Sdn Bhd, will be built in two years' time at a cost of RM 10 million (USD 2.99 million).
Mahindra Satyam, a software service company from India, proposes to expand its operations in Malaysia.
Wipro has expanded its Malaysian operations by launching a Global Service Management Centre (GSMC) in Cyberjaya.
Hyderabad-based Vivo Bio Tech Ltd is to invest RM 450 million (USD 140.6 million) in the setting up of an integrated biotechnology facility in Malacca to commercialize bio-therapeutics in Malaysia.
Malladi Group is in the process of investing US $300 million by 2012-13 to create a global one-stop shop encompassing entire value chain in contract manufacturing facility in bio-technology in Malaysia;
Malaysia's MNC Wireless Berhad and India's Cellebrum.Com Ltd, a subsidiary of Spice Corp Ltd, established a strategic partnership that entails marketing Cellebrum.Com's mobile platforms, distribution rights, marketing in collaborative areas and co-development in the areas of research & development.
Hyderabad-based Goldstone Technologies Ltd. Launched its Internet Protocol Television (IPTV) service in Malaysia to take advantage of the growing audience market. Partnering with MOL Access Portal Bhd., Goldstone's focus will be on South Indian content, particularly movies.
Reliance Anil Dhirubhai Ambani Group's Adlabs Films Ltd has expanded into Malaysia with the acquisition of a majority stake in the Lotus Five Star Cinemas. With the Adlabs acquisition, Lotus has emerged as the third largest chain in Malaysia, operating 51 cinema halls spread all over Malaysia.
India's Punj Lloyd Ltd is part of a consortium awarded the job of building a 512 km natural gas pipeline from the proposed Sabah Oil and Gas Terminal in Kimanis to Petronas' liquefied natural gas complex in Bintulu (East Malaysia).
Aban Offshore Ltd, Mumbai has been awarded two contracts worth USD 55 million in all to drill nine oil wells in Malaysia.
The Embassy Group of India in partnership with the Emkay Group of Companies of Malaysia have officially opened the Block A of their MKN Embassy TechZone project worth RM 350 million (USD 109.7 million) in Malaysia.
Scomi Marine, an associate of Scomi Group Bhd of Malaysia has entered into a memorandum of understanding (MoU) to form a framework of cooperation for the provision of maritime academic programmes in Malaysia is still under progress. The MoU was signed with Indian Maritime University (IMU), Intan Asia Sdn Bhd and Port Klang Free Zone (PKFZ). IMU is a central university established by the Ministry of Shipping, Government of India with headquarters in Chennai.
TH Properties Sdn Bhd and Davanam Constructions Pvt Ltd has entered into an agreement to build approximately 200 acres luxury residential project at Bandar Enstek, Nilai is scheduled to commence in first quarter 2011 with completion targeted for 2016.
Malaysia-based Tamco Switchgear, a wholly owned subsidiary of Larsen & Toubro Limited and part of the Electrical & Automation (E&A) business, have taken over Henikwon Corporation Sdn Bhd. Based in Malaysia, Henikwon Corporation is a leading manufacturer of Low Voltage (LV) and Medium Voltage (MV) busduct systems. Henikwon brand is globally well recognized and offers high quality products under compliance to international quality standards.
Reliance bought over BP's interest in BP Chemicals (Malaysia) Sdn Bhd (BPCM) located at Kuantan on the east coast of Malaysia for $230 million in cash, both parties anticipate completing the transaction in 2012. BPCM plant is manufacturing of 610,000 tonnes of purified terephthalic acid (tpa) per year.
Indian public sector undertakings have an impressive track record in Malaysia, with HMT, EIL, BHEL, IRCON and IOC having been actively engaged with the Malaysian industrial sector since the 1970s. A few highlights are as follows:
IRCON International Ltd. (a company under the Ministry of Railways, GOI) has been actively engaged in the development of railways in Malaysia since 1988. It has successfully undertaken track rehabilitation, track and bridge work, refurbishment of KTMB's 22 class locomotives. It has successfully completed and commissioned 11 major railway projects valued about RM 694.7 millions. IRCON has successfully completed 31.5 km. rail link costing US$ 121 millions between Senai Station and the Port at Pelabuhan Tanjung Pelapas (PTP) in January, 2002. IRCON is supplying locomotives on hire and maintenance basis to KTM Berhad (Malaysian Railway) since July 1993. Consortiums led by IRCON and China Railway Engineering Corporation had, apparently, submitted their respective proposals to the Malaysian government for the construction of the northern and southern portions of the multi-billion dollar project being undertaken by KTM Berhad. IRCON has successfully completed the Seremban – Gemas Railway Double Tracking Project worth over US $ 1 billion on 31st July 2013.
December 2013