HIGH COMMISSION OF INDIA
KUALA LUMPUR
*****
PRESS RELEASE
UNVEILING OF THE BUST OF NETAJI SUBHASH CHANDRA BOSE
AT THE NSCBICC, KUALA LUMPUR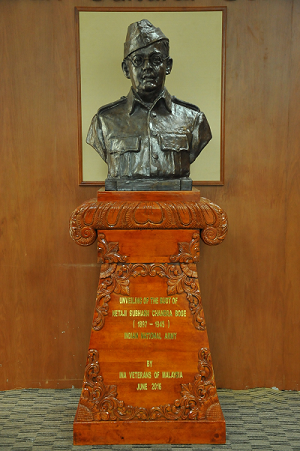 A bronze statue of Netaji Subhash Chandra Bose is being unveiled at the Netaji Subhash Chandra Bose Indian Cultural Centre premises in Kuala Lumpur on Saturday 18th June, 2016 at Jalan Sultan Abdul Samad, , Kuala Lumpur from 11 a.m. to 1 p.m.
During the visit of the Hon'ble Prime Minister of India Shri Narendra Modi to Malaysia in November 2015, the Prime Minister announced the renaming of the Indian Cultural Centre in Kuala Lumpur as Netaji Subhash Chandra Bose Indian Cultural Centre. It will be recalled that Netaji Subhash Chandra Bose strode like a colossus across the Malay Peninsula inspiring numerous Malaysians, particularly those of Indian origin, to join the Indian National Army. He left behind a lasting legacy of courage, inspiration and leadership. Malaysia has the second largest Indian origin community in the world of around two million.
The unveiling ceremony of the bust of Netaji Subhash Chandra Bose will be a unique one since the bust will be unveiled by the Indian National Army veterans of Malaysia. More than 35 Indian National Army veterans live in Malaysia and many are expected to attend the event. One such INA veteran in Malaysia, who passed away last year, was Capt. Janaki Athi Nahappan, who has served as deputy leader in the Rani of Jhansi regiment of the Indian National Army led by Capt. Lakshmi Sahgal. Capt. Janaki was awarded Padma Shri by the Government of India in 2000.
The Indian Cultural Centre, since its inauguration in February 2010, has gone from strength to strength showcasing India's rich heritage and promoting multi-layered cultural exchanges between peoples of India and Malaysia. The High Commission of India recently hosted the first ever Festival of India in Malaysia last year with the cooperation of the Union Ministry of Culture and Indian Council for Cultural Relations. An unprecedented 45 events were held in a span of 100 days in all major cities of Malaysia witnessed by thousands of Malaysians.
The entry for the event is free and you are cordially invited to attend the event with family members and friends. For RSVP kindly email to ; ; or contact the NSCBICC at .
13th June 2016