Room For Malaysian Firms To Tap Andhra Pradesh Mart, Says Chief Minister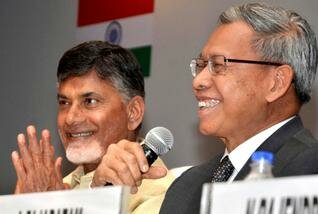 VIJAYAWADA, May 4 (Bernama) - There are still room for Malaysian infrastructure, manufacturing, construction and logistics segments to tap the Andhra Pradesh market, said its Chief Minister Chandrababu Naidu.
Andhra Pradesh is the eighth largest state in India. Last year, it recorded a gross state domestic product (GSDP) of US$77 billion (US$1 = RM3.97) at current prices while at the constant prices it stood at US$39 billion.
"With the total population of 49 million, the state is now progressively undertaking economic reforms. It has recorded strong double-digit growth and this year the GSDP is expected to be grow at 15 per cent," he said.
Chandrababu was speaking at a meeting between the state government's officials and Minister of International Trade and Industry, Datuk Seri Mustapa Mohamed and Malaysian trade and investment delegation here on Tuesday.
He said currently, Andhra Pradesh was working with the Performance Management and Delivery Unit (Pemandu) to develop, implement and monitor the state government's programmes and strategic development plans.
"The collaboration with Pemandu is an opportunity for us to develop faster and we always welcome expertise in designing and urban planning to assist us transform the state in to an established and developed area," he said.
Chandrababu said although Malaysia has been involved in road, power and property projects this needed to be widened given Andhra Pradesh's target vision to become a developed state by 2029.
"At the same time, Malaysian companies could also tap the state's skills in other potential sectors such as tourism, agriculture, healthcare, bio-technology, pharmaceutical, car components and food processing through joint-ventures.
"We also plan to develop a futuristic greenfield capital city in Amaravati on the southern banks of River Krishna. This is envisioned to be a milestone in India's urbanisation story," he said.
He said Amarawati would be integrated through an extensive network of ports, airports, roads and inland waterways to turn Andhra Pradesh into a well-connected hub.
Meanwhile, Mustapa said, since Malaysian companies already had long ties with India as well as Andhra Pradesh, they should take this opportunity to further leverage on the potential investments in this emerging Indian state.
"There are a lot of goodwill to expand here, following the state's plan to develop Amaravati to become a smart city," he said.
Mustapa is leading a 44-member trade and investment mission to India and Sri Lanka from May 1-7, 2016.
The mission aims to promote business opportunities in Malaysia and hopes that more Malaysian companies could be active in Andhra Pradesh and explore the potential areas there.
Also present were Malaysian High Consul-General in Chennai, Ahmad Fajarazam Abdul Jalil, Malaysian Investment Development Authority (MIDA) Deputy Chief Executive Officer II Datuk N. Rajendran and Malaysia External Trade Development Corporation Senior Director Strategic Planning Division Wan Latiff Wan Musa and MIDA Director in Mumbai Sherulanuar Abd Karim.