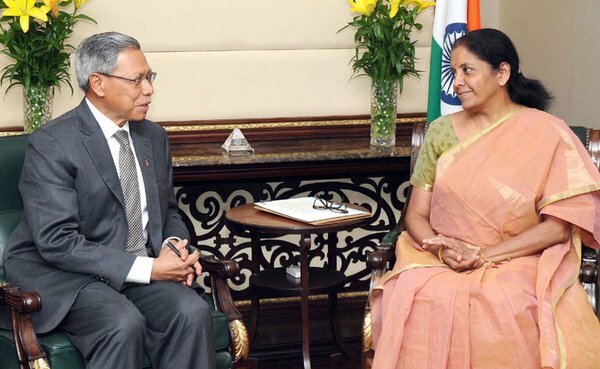 New Delhi, May 2 (ANI): Malaysia can act as the gateway to ASEAN market for India. Malaysia and India can explore opportunities in the smart manufacturing/factory concept and explore the Principal Hub scheme for Indian companies with a global presence. Indian companies should look ahead for expansion in Malaysia to strengthen their presence in the region including M&As. An ecosystem approach must be adopted to strengthen complementarity between Malaysian and Indian companies.
This was stated here today by Dato Sri Mustapa Mohamed, Malaysia's Minister of International Trade and Industry, at a special session on 'Business Opportunities in Malaysia' organized by FICCI jointly with Malaysian High Commission in India, Ministry of International Trade and Industry (MITI) - Malaysia, Malaysian Investment Development Authority (MIDA) and Malaysia External Trade Development Corporation (MATRADE).
The minister said that India was Malaysia's 11th biggest trading partner in 2015. To further deepen the relationship between the two countries a Joint Statement Malaysia-India Strategic Partnership was issued in 2015. The joint statement reaffirmed the commitment to further strengthen bilateral trade and investment; promote joint collaboration in infrastructure and construction sector; encourage public and private sector companies to pro-actively look at large investment opportunities in each other's country; and continue to promote greater engagement by Indian IT companies in Malaysia.
Mohamed said that there were opportunities in manufacturing such as chemicals and chemical products, textiles & textile products, pharmaceutical, and machinery & equipment, that could be explored and in services as well such as healthcare, education, centre of excellence and tourism.
Datuk Naimun Ashakli, High Commissioner of Malaysia to India, said that Malaysia now has a diversified economic structure, which creates the foundation for future growth. The trade between India and Malaysia was USD 12 billion in 2015 and Malaysia now aspires to take this figure to USD 15 billion. He added that there has been a four-fold increase in trade between the two countries. Malaysia with its competitive and positive business environment attracts companies.
Dr. A Didar Singh, Secretary General, FICCI, said that there were three key areas - Digital Economy including E-Commerce; Co-manufacturing; and Start ups - where FICCI would like to work with Malaysian Government and businesses. He added that Indian companies played an important role in Malaysia's business environment, with companies setting up manufacturing and services activities in the country. In 2015, a total of 130 manufacturing projects with Indian interest were implemented.
Mr. Milind Kamble, Head Delivery & Operation, Asia Pacific, Tata Consultancy Services Ltd.; Ms. Payal Koul, Vice President, Invest India (Investment opportunities in India focusing Telangana) and Mr. Rama Rao, Special Commissioner, Resident Commissioner's Office in New Delhi , made presentations on investment opportunities.
On the occasion, MATRADE Awards were presented to the following in various categories:
Category 1: Importer and Distribution: Mr Ketan Gandhalikar, Head-Furniture and Home, Future Retail Ltd
Category 2: Product Branding: Mr Jim Robinson, Group CEO, MFE Fromwork Technology Sdn Bhd
Category 3: Cross Border Investment: Mr Anbu Jayabalan, India Country Head, Eversendal Corporation Berhad and Mr Rohit Chandak, Chief Financial Officer, Uniquest Infra Ventures Pvt Ltd
Category 4: International Partnership: Mr Babar Khan, Director, Investments, Khazanah India Advisors Pvt Ltd. (ANI)